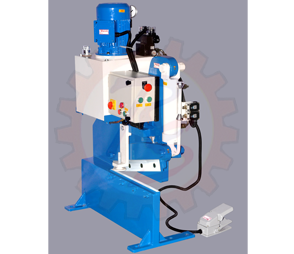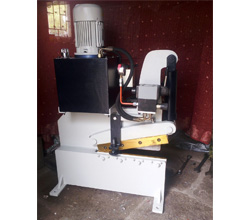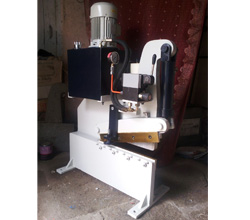 Hydraulic Hand Shearing Machine / Hand Shearing Machine / Hydraulic Shearing Machine
We are recognized as the manufacturer and suppliers of Hydraulic Hand Shearing Machine. For the operation of the machine, we use top-quality raw material and sophisticated technology as per the set industry norms. Renowned for its robust construction, high durability, compact size, dimensional accuracy and longer service life, our offered Hydraulic Shearing Machine is extremely appreciated by the client. Except this, we design and develop a Hydraulic Hand Shearing Machine to our valued clients in several specifications to fulfill their varied desires.
Our hydraulic hand shearing machine is a semi-automatic machine, so manpower is required less. Hydraulic hand Shearing Machine is made-up from hydraulic parts and electric parts. We use a high quality ultrasonically tested grade steel that provides high strength and toughness to the structure. These technically advanced hydraulic shearing machines use a solenoid valve and electric motor as electric parts.
Hydraulic hand shearing machine cut and score every type of sheet metal quickly and accurately. They work well for industries that do a lot of sheet metal fabrication work. They do not require a high maintenance; it is operated continuously and very fast.
We provide Hydraulic hand Shearing Machine with standard accessories like the main drive motor, foot switch operated machine, front sheet support, four edge WPS (HCHCR) blade Interchangeable and suitable to shear mild and Stainless Steel, Manual back gauge, etc.
Guaranteed Cutting Capacity of Blade:
M. S. Bar Cutting 50*12 mm.
M. S. Sheet 5mm Thickness Cutting.
Features of Hydraulic Hand Shearing Machine:
Foot Switch Operated Machine.
Hydraulic Sheet Metal Work Unit.
Semi-automatic Machine.
Power Consume 1.5 hp only.
4 Sided Use Cutting Blades.
Blade Length 18"(457mm).

Heavy Duty Hydraulic Cylinder.
Use 68 No. Hydraulic Oil (20 Ltr).
Cutting Length In One Stork (290mm).
Easy Maintenance.
High-Quality Cutting Blade Materials W.P.S (HCHCR).
Genuine Power Pack.
Application of Hydraulic Hand Shearing Machine:
Sheet Metal Workshop
Steel Furniture
Food Making Machinery
Medical Furniture
Agricultural Machinery

Tractor Trolley
Sheet Metal Fabrication
Fabrication
Automobile
Printing Machinery