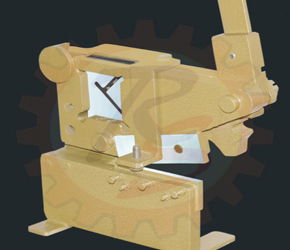 8CH Hand Shearing Machine
Multi Cutting Option
We are one of the leading manufacturers and exporters of a wide collection of Hydraulic Shearing Machine that are made by our professional engineer team. We produce an extensive range of Hand Shear Machine (8/CH) for different purposes in industries. We can provide customized solutions for our range on the basis of the requirement of the customers. 8/CH Hand Shearing Machine is made from steel plate and cutting blade.
We provide 8/CH Hand Shearing Machine with standard accessories like the foot switch operated machine, front sheet support, cutting blade grade (OHNS) Interchangeable and suitable to shear mild and Stainless Steel, Manual back gauge, etc.
Cutting Capacity of Blade:
Features of 8/CH Hand Shearing Machine:
Multi Cutting Option.
Round Bar 12.00 mm.
High-Quality Cutting Blade Materials OHNS.
Blade Size - 175 mm. (7").
Manually Operated Machine.

M. S. Sheet 6 mm. Thickness.
Square Bar 12.00 mm.
Body Plate Thickness 30mm.
Easy Maintenance.
Application of 8/CH Hand Shearing Machine:
Sheet Metal Workshop
Steel Furniture
Food Making Machinery
Medical Furniture
Agricultural Machinery

Tractor Trolley
Sheet Metal Fabrication
Fabrication
Automobile
Printing Machinery