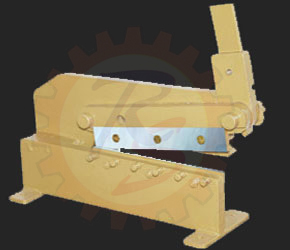 5/300 Hand Shearing Machine
M. S. Plat & Round Bar Cutting
We are manufacturer and exporter of 5/300 Hand Shearing Machine. The wide range of Hand Shearing Machine (5/300) is provided by us to our valued clients, which are highly demanded in the market. Manufactured using superior quality raw materials, these Hand Shear Machines are recognized for their proper functioning, quality grade results, high tensile strength, and durability. Our hydraulic shearing machines are included with automatic lubrication system and much more features. This system helps in providing durability and increase the effectiveness of machines. 5/300 Hand Shearing Machine is made from steel plate and cutting blade.
We provide 5/300 Hand Shearing Machine with standard accessories like the foot switch operated machine, front sheet support, cutting blade grade (OHNS) Interchangeable and suitable to shear mild and Stainless Steel, Manual back gauge, etc.
Features of 5/300 Hand Shearing Machine:
M. S. Sheet and Round Bar Cutting.
S. S. Sheet 1mm. Thickness.
Blade Size - 300 mm. (12").
Body Plate Thickness 25 mm.
Manually Operated Machine.

M. S. Sheet 1 mm. Thickness.
Round Bar10.00 mm.
4 Side Use Cutting Blade.
Easy Maintenance.
High-Quality Cutting Blade Materials OHNS.
Application of 5/300 Hand Shearing Machine:
Sheet Metal Workshop
Steel Furniture
Food Making Machinery
Medical Furniture
Agricultural Machinery

Tractor Trolley
Sheet Metal Fabrication
Fabrication
Automobile
Printing Machinery